Helibar Removal Quick Guide
This procedure begins on page xyzzy of the service manual.
There are various reasons for removing the Helibars, or parts of them, including installation of a ball-mount, power socket, handlebar risers, or to access the tops of the forks for fork maintenance. Use as much or as little of these instructions as you need to fulfil your need.
JIS cross-point screwdriver

A conventional Phillips screwdriver will work but is likely to strip the heads of the screws.
A suitable tool is provided as part of the pre-2006 tool kit. (Honda P/N 99003-10000, requires handle P/N 89103-538-000)
JIS Screwdriver sets are also available from Internet suppliers, craft and modelling shops. Most US based Auto-Parts stores have never heard of JIS.

6mm Hex wrench
7mm Hex wrench
12mm socket
14mm wrench
Supplies
None.
Disassembly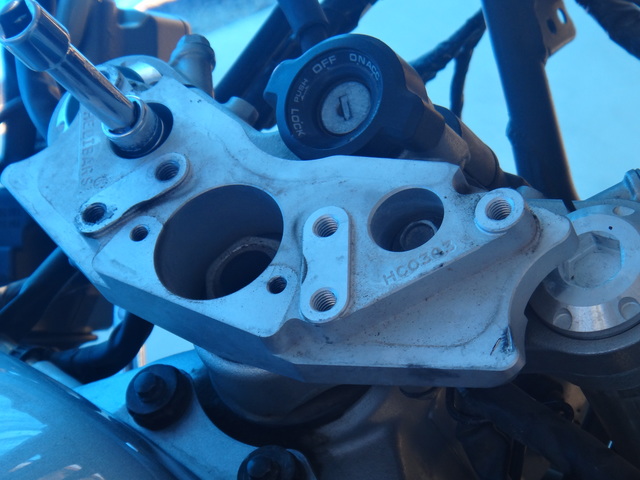 Remove the top plate by taking out the two 6mm Allen bolts retaining it. This plate is most commonly changed out for ball-mounts and power connectors.
Remove the 12mm handlebar bolt and 7mm Allen bolts, stowing the handlebar where it will not scratch the tank. Take care not to put too much stress on the brake and clutch hoses.
The riser plate is secured by the now-visible 12mm bolts. These bolts are not threaded into the tree, but are obtusely secured by a 14mm locknut on the underside of the tree. Clearances are tight, so a wrench is the best way to go here.
Procedure
None.
Reassembly
Reverse the Disassembly procedure.
Post-Service Checkout
Hold the front wheel between your knees and check for free play in the handlebars. Check functionality of all levers and switches on the handlebars
None.